Sullivan Shoemaker PC, LLO, Omaha and Hastings, Nebraska Attorneys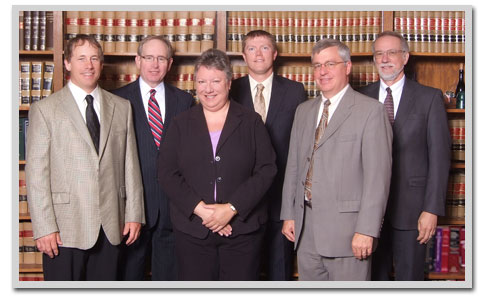 With offices in Omaha, Wahoo and Hastings, Nebraska, Sullivan Shoemaker P.C., L.L.O.

has been providing excellent service to its clients across the State of Nebraska for over 40 years. In addition to our experience in Adams County (the 68901 area) and Saunders County, we have trial experience in Douglas, Lancaster, Hall, Buffalo, Clay, Hamilton, Kearney, Nuckolls and Webster Counties. Our attorneys practice in many areas including:
Personal Injury
Car accidents, automobile collisions, slip & fall, soft tissue, closed head, trauma, emotional suffering, wrongful death, recovery of medical expenses, insurance claims, permanent or temporary disability, loss of limb, loss of life, neck pain, back pain, broken bones, lacerations, disfigurement, economic loss and future medical costs.
Family law
Divorce, child custody and visitation, child support, alimony, modifications, paternity actions, adoptions, juvenile law, parental rights, protection and harassment cases.
Real Estate
Residential, commercial and agricultural purchase agreements, security agreements, leases, closings, contract review and landlord and tenant matters.
Municipal Law
Environmental law, counsel for area cities and villages regarding code enforcement, ordinances, zoning, condemnation and annexation, counsel for Natural Resources District.
Criminal Defense
DUI, theft, felony, misdemeanor and juvenile.
Estate Planning and Administration
Wills, trusts, probate, will contests, inheritance taxes, powers of attorney, guardianships, elder law and medicare planning.
Business
Corporations, limited liability company and partnership formation, UCC, sales and buy/sell agreements, wage collection, non profit, charities and dissolution.
Often a client's needs require the advice and experience of more than one attorney in our firm. Our accomplished team will work together to give you a comprehensive and practical strategy to address your needs. If you would like to speak with an attorney today, call or e-mail us. We will listen and ask pertinent questions. We will help you decide if you will benefit from our services. Your case may even qualify for one of our free consultations. Hastings and Wahoo area clients have trusted us for many years. Our goal is to earn your trust with your personal injury case, estate planning issues or any other legal matter. And to get you the result you desire.

Whether you are looking for help for yourself, a loved one or a friend who needs advice on a legal matter or who has been hurt or harmed by another's negligent or intentional act, Sullivan Shoemaker P.C., L.L.O, in Hastings, Omaha and Wahoo, Nebraska can help.